An acidifying and buffering adjuvant for use with all pesticides that are prone to breakdown (alkaline hydrolysis) when mixed with alkaline (high pH) water.

PROBUFF 700 is a multi-purpose adjuvant which is composed of natural surfactants and penetrants derived from soya bean oils. These are combined with propionic acid to produce a penetrant, surfactant acidifier for use with herbicides, insecticides, fungicides, foliar fertilizers and plant growth regulators.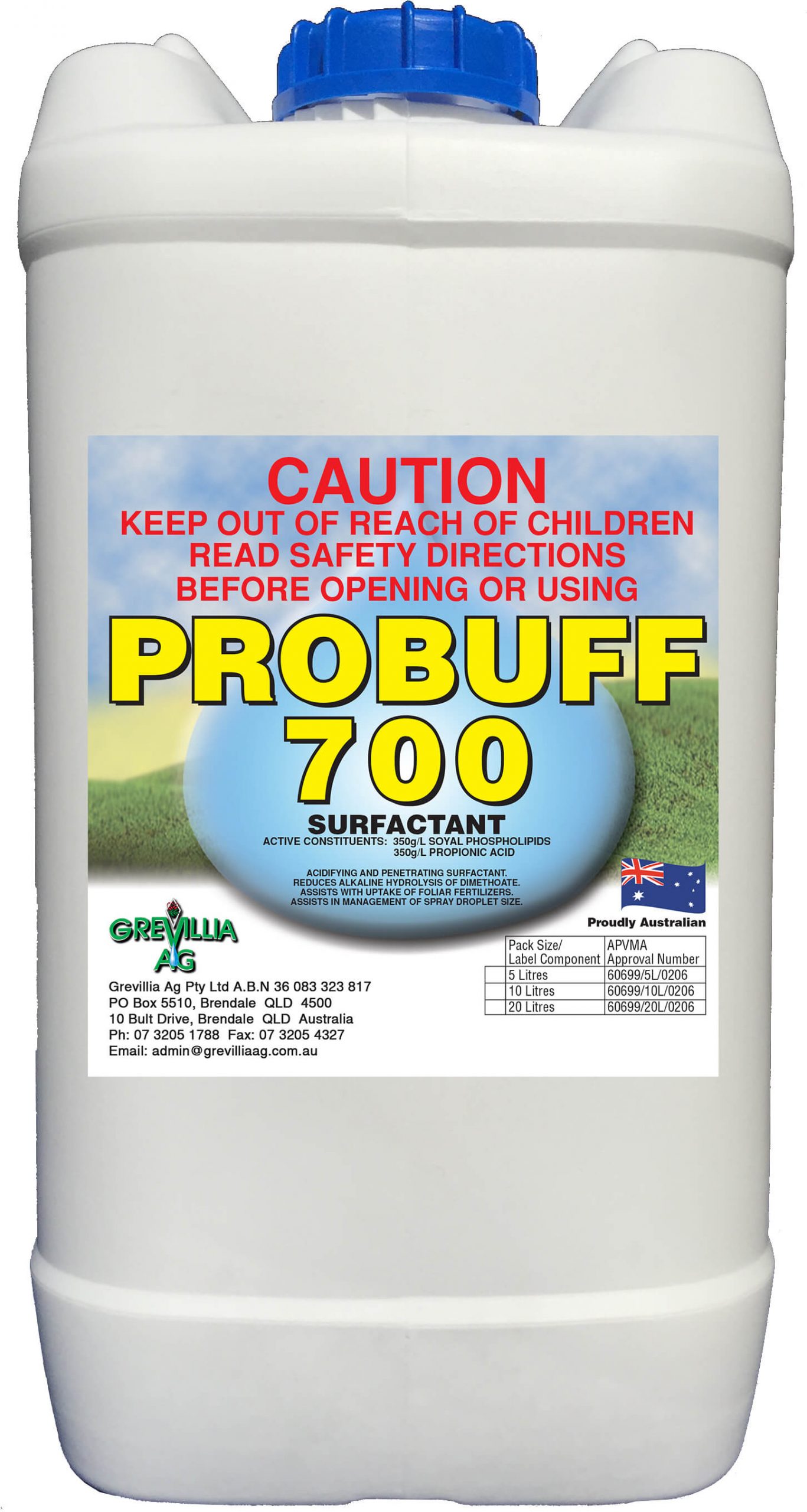 The unique properties of PROBUFF 700 enhance the uptake of many systemic herbicides, allowing them to effectively penetrate into the leaves without causing damage to non-target crops.

PROBUFF 700 also works as an acidifier which will reduce pH, in most cases to between 4 and 5. This reduces losses due to alkaline hydrolysis and also assists with the uptake of weak acid herbicides such as glyphosate.

Note: If you are unsure of the quality of your water intended for use with agricultural sprays, consider using a PRO-SPRAY water test to analyse water quality and suitability.

Available in 5L, 10L and 20L packs.
| | | |
| --- | --- | --- |
| | | |
| Addition to herbicides to improve spreading and penetration | | Use high rate on stressed or difficult to control weeds |
| Reduction of pH to reduce alkaline hydrolisis. Dimethoate | | Add water in spray tank before adding Dimethoate |
| To improve update of foliar fertilizers | | Tank mixing with other agricultural chemivals may increase the potential for crop damage – check with supplier |
| Assist in droplet size management to partially reduce the number of fine droplets produced from hydraulic nozzles by air and ground | | Helps to reduce the number of fine droplets. PROBUFF 700 wil reduce tthe fine droplets associated with, but not eliminate, off-target movement. This is contingent upon good agricultural spray ing practice and appropriate nozzle choice. refer to Grevilia Ag Crop Protection representative for further advice and stewardship. |
Additional Information: